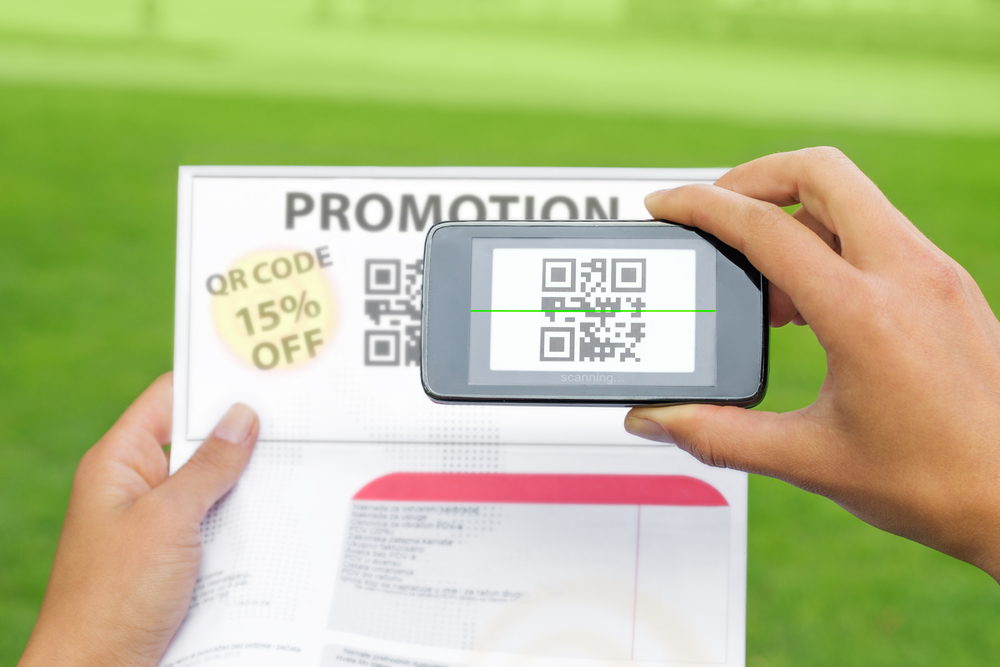 If any of you have been to a restaurant lately, you've probably been prompted to scan a QR code on a table or adjacent wall to access the menu with your phone. Great idea for these days. We've also seen more QR codes appear in print ads, on banners and even window graphics. But these codes are not new.
Japanese Manufacturing's Influence on QR Codes
In 1994 the first QR code appeared when the Japanese company Denso Wave, a subsidiary of Toyota was looking for a technique to more accurately track inventory during the manufacturing process. Soon, you saw QR codes everywhere.  But back then, the code scanning process was wonky at best. First, you had to upload a QR code app to your phone. Then, you had to open the app to scan the code for your phone's browser to direct you to the linked landing page or website. Those user-UNfriendly steps stifled the adoption of QR codes.
Today, Scanning is Easy Peasy
Today, those unfriendly, tedious user requirements are no more. Now, your smart phone's camera has the QR code software built into it. All you have to do is open your phone camera and point it at the QR code. Your phone automatically scans the QR code and sends your phone's default browser off to the internet. Peruse online menus,  review an offer on a website, and even pay for something. Easy, peasy these days.
Bridging the Print and Digital Worlds for Advertisers
For these reasons, Prescott Valley's multimedia network and advertising agency, Talking Glass Media is launching its comprehensive QR code flow network to bridge its digital and print worlds for its marketing and advertising clients.
"Our recent Q2 Partner Update shared a number of new developments at TGM.  Early into Q3, we already have a new development to share.  Because we have both print and digital platforms, our QR code flow network provides us the opportunity to bridge the gap between our print and web based content platforms for our advertisers and marketing partners.

Now, we can add a QR code to a print advertiser's placement to take readers to the web for more information and offers. Additionally, we can now bring together the retail and merchant offers found in our print with our web pages. Readers have the option to redeem our advertisers offers either with print coupons found in our magazines or on our digital coupon landing pages they can open right on their phones. You will find these offers on our web based "iDealios" pages that are now in development. I believe we will be the first in the region to comprehensively bring together our print and digital platforms while also offering both print and digital deals for our region, " says Guy Roginson, Talking Glass Media.
About Talking Glass Media of Prescott Valley, AZ.
Talking Glass Media is home to digital, print, streaming and outdoor media platforms. These content platforms generate more than 25 million impressions per year for TGM's advertising and marketing partners.
SignalsAZ.com is TGM's flagship multimedia website garnering more than 3.9 million page views per year (2020).
TG Magazine is Prescott Valley's print voice with 40,000 copies in distribution annually. This is TGM's "smart and beautiful" publication.
CAST11 Podcast is TGM's streaming platform where listeners are free to roam the plains of knowledge.
The official Town of Prescott Valley Recreation and Events Guide is published by TGM. Over 60,000 print copies are in circulation annually, so you'll never miss another event!
TGM also operates the only two digital billboards in downtown Prescott Valley generating more than 20 million impressions annually.
If you would like more information on how your business can partner with Talking Glass Media, CONTACT US.