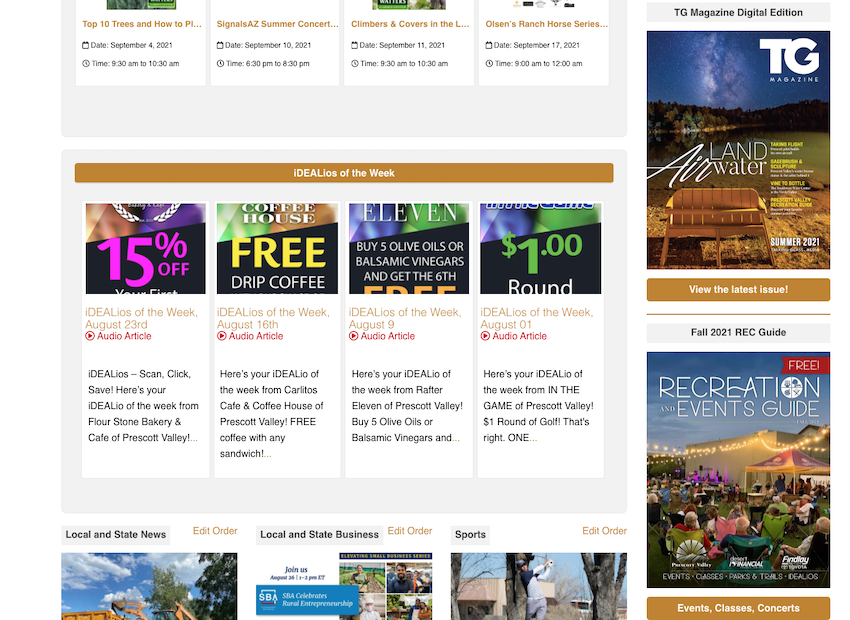 Talking Glass Media (TGM) of Prescott Valley is excited to share some new developments on our digital publishing platform for our advertising and marketing parters as well as our readers. This week, we have added both the Prescott Valley Recreation Guide and iDEALios to the home page of SignalsAZ.com .
According to Elicia Morigeau, Sales & Events Director, TGM, "The placement of these two new advertising and marketing platforms on the SignalsAZ.com home page provides them the exposure they deserve while providing our readers more information and choices. The home page of SignalsAZ.com is our #1 page and that means millions of page views annually for content on this page.
The official Prescott Valley Recreation & Events Guide is a quarterly publication with 60,000 copies in print annually. The guide is the result of a public – private partnership and collaboration between the Town of Prescott Valley's Recreation & Events Department and Talking Glass Media.
iDEALios was launched in early August 2021 and provides deals, discounts and coupons from regional businesses. iDEALios is both in digital format on SignalsAZ.com and printed in the quarterly Prescott Valley Recreation Guide.