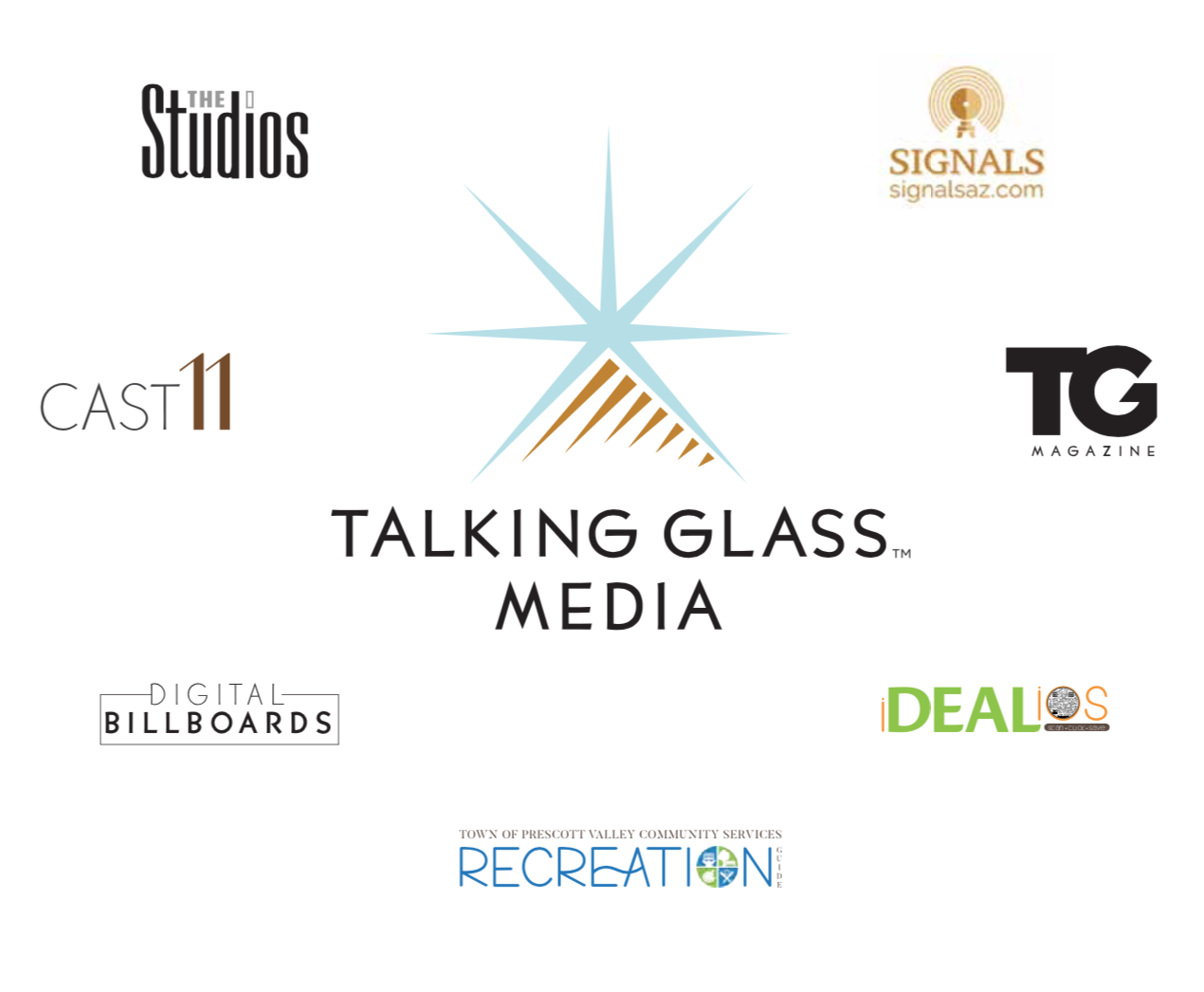 Here's our annual Advertising, Marketing, Publishing Year in Review for 2021 at Talking Glass Media of Prescott Valley.
Talking Glass Media (TGM) is home to the following publishing, advertising, and marketing platforms:
SignalsAZ.com – central Arizona's leading multimedia good news website. In 2021 our readership grew again, garnering over 4.25 Million page views with dominant markets in Prescott, Prescott Valley, and Phoenix. SignalsAZ.com reaches throughout the state of Arizona.  4,467 articles were published in 2021 while 3,600 events were published, covering events throughout Arizona. SignalsAZ.com expanded its covering to now include Cottonwood, AZ., one of the states hottest new destinations. The new, live web camera on SignalsAZ.com's home page attracted over 2.5 Million views in 2021, thanks to our partnership with Touchmark at The Ranch, Prescott.
TG Magazine – TG Magazine is a quarterly print publication with 40,000 copies in distribution in 2021, covering an incredible range of topics, people and destinations throughout central Arizona.
Town of Prescott Valley Recreation & Events Guide – TGM is proud to have partnered with the Town of Prescott Valley, launching the new TOPV Recreation and Events Guide for the region. Quarterly, TGM printed 60,000 copies of events from Prescott Valley Parks and Recreation, the Findlay Toyota Center, and the Prescott Valley Chamber of Commerce.
CAST11 Podcast Network – TGM also launched its podcast network in 2021, CAST11. From text-to-speech streaming podcasts that convert top news stories and events into podcasts, to live interviews and weekly shows, the CAST11 network published 438 podcasts in 2021!
Digital Billboards – TGM operates and manages the two premier digital billboards in downtown Prescott Valley. One located in front of the Findlay Toyota Center, central Arizona's premier indoor event arena, and one on Highway 69 and Glassford Hill Road. Both locations are adjacent the busiest arteries in the immediate region, generating over 21 Million impressions annually (based on Town of Prescott Valley and ADOT traffic reports).
THE Studios at TGM – Our in-house multimedia production studios are home to video and podcast productions as well as our sales, administrative operations and event producers. In 2021, TGM produced 227 videos and 7 event photo booths which provided thousands of branded community photos for our partners and many memories for our communities. Additionally, TGM in partnership with Fain Signature Group, produced 5 free community concerts in 2021! These productions are great advertising and community marketing opportunities for our clients. We already have many more planned in 2022.
Talking Glass Media's advertising, marketing and publishing services now include: